ARRIVING AT THE LIMA AIRPORT
---

<![if !vml]>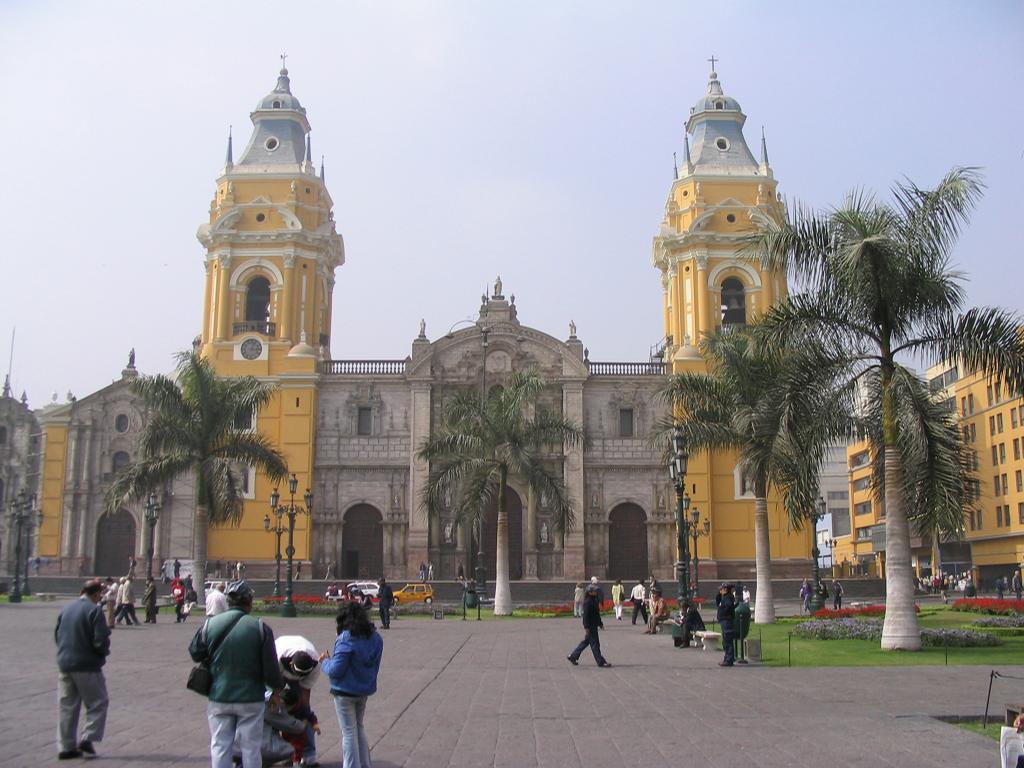 <![endif]>


Table for Contents for This Page
Getting to Huanchaco
Arriving in Lima
Immigrations
Customs Inspection
After Customs Inspection
Miraflores
Crime in Lima
Food, Drink, & Health in Lima
Sightseeing in Lima








<![if !supportLineBreakNewLine]>
<![endif]>
---

Huanchaco is located outside of Trujillo, 300 miles north of Lima. Several airlines provide daily service to Trujillo,which is a one-hour flight from Lima. The Trujillo airport is actually located in Huanchaco. Round-trip airfare is usually between $200 and $300. First-class buses from Lima take 8 hours and cost around $60, round-trip.

We can help students make travel arrangements.

We will meet students at the Trujillo airport or bus station.

Click here for information on domestic flights in Peru.
---
Going through immigration and customs in Peru is quite easy. The process begins on the plane before you land. The flight attendant will hand out two forms: an immigration form and a customs form. The immigration form asks for your name, nationality, your home address, flight number, your address in Peru, the length of your stay, and the purpose of your trip. For the purpose of your visit, you should write TOURISM. For your place of residence in Peru, you should write "Huanchaco" although this part of the form is not essential.
The customs declaration form asks if you are bringing in any liquor, tobacco products, or fancy electronic goods (CD players, laptops, video cameras, etc.). As a tourist you don't need to declare your I Pod, laptop, cameras (video or otherwise) or small electronic items for your personal use during your trip. Unless you are bringing down five laptops, you don't have to itemizing your electronic goods. You are allowed to bring in 2 liters of liquor and 400 cigarettes duty free. If you bring in liquor or tobacco products, you have to list them on the form. You can buy duty-free liquor, cigarettes, cigars, etc. at the duty free shop in the US or at the Lima airport. Duty-free means that there is no tax of any kind charged on the purchase.

---
Once the plane arrives, follow the crowd of passengers down the long corridor to the Immigrations desk. There will be several lines for Peruvian citizens and foreigners. You should get in line with your passport and immigration form ready. When it's your turn, you hand your passport and form to the immigration officer. The officer will stamp your passport and the form. The standard tourist visa is 90 days. He will give you back the form at the end of your trip.  You should keep in your passport. Don't lose the form, because you will need it when you leave the country or if the police stop you. You are not likely to have any problems at Immigrations. Stamping tourist visas is a routine process. You don't need to apply for a visa in advance if you are a US or Canadian citizen.
From immigration, you go to the baggage claim area, where you get your luggage and then line up to go through customs. Just like the Immigrations desk, this is a routine process for tourists. You shouldn't have any trouble. When it's your turn, you press a button. If the light turns green, you can go through without any inspections. If it turns red, you show the customs agent your luggage, passport, and customs declaration form. If you made a purchase at the duty free shop, the shop will put your stuff in a nice plastic bag marked "Duty Free". You should leave your purchases in the bag and keep the receipt. This makes it easy to show the agent what you bought. Usually they will inspect your duty free goods and wave you through. They will probably ask a few questions like, "Do you have any cigarettes or alcohol?" "What is the purpose of your visit?"
If you get the red light, they will X-ray your bags.  If the X-ray is unclear, they may ask you to open your bags. .
Remember that importation of illegal drugs, drug paraphernalia, and handguns is both illegal and foolish. If arrested, the police are required by international treaty to notify the US consulate, and you should insist that they do that. However, remember that there is little the US consulate can do for you. They might offer to contact your parents or give you a list of local lawyers, but they will not intervene on your behalf or negotiate your release. In addition, there is little that UNC or MOCHE can do to help you.  You are not exempt from the laws of Peru simply because you are an American or a student. Remember that Peru doesn't have a bail system. Once arrested, you will remain in jail (guilty or innocent) until your trial, and it could take years. The Peruvian legal system is different in many ways from the US system. In the Peruvian system, you are not presumed innocent; rather you have to prove your innocence to the court. When packing for your trip, don't do anything stupid.
---
After customs, you will see a barricade. On the other side of the barricade will be a huge crowd of people.

If you are catching a flight to Trujillo, proceed straight ahead through the barricade to the far end of the airport. You will have to check in for your domestic flight and then head upstairs to the departure lounge. You can change money at the airport for a reasonable rate.  There is a food court and shops upstairs.
If you are staying the night in Lima, we recommend that you stay at The Hostal Torreblanca in Miraflores, a suburb south of Lima. You should make reservations in advance:
Hostal Torreblanca
Avenida Jose Pardo 1453
Miraflores, Lima
Phone: 447 0141 or 242-1876

The Green Taxi, which has a stand right at the barricade, can provide a safe ride to the hotel. You can pay in dollars. At the Hostal Torreblanca, they can arrange a taxi back to the airport or to the bus station. The reception staff speaks English.

We can help you make your travel arrangements for your trip from the Lima airport to Trujillo.
---
Hostal Torreblanca is located in Miraflores on the south side of Lima about 30 minutes from the airport (the airport is on the north side of the city). Miraflores is an upper-class suburb and is definitely the part of town to stay in. It is much less crowded and safer than central Lima. The Lonely Planet and Rough Guides have good map of Miraflores and central Lima. Parque Kennedy and the cliff-side park above the beach are nice places for a walk during the day. However, after dark, you should avoid walking along the cliffs. You should always keep to well-lighted main streets at night. Numerous small restaurants are located around or near Kennedy Park. The park benches and sidewalk cafes are great for relaxing and people watching.
---
Pickpockets, camera snatchers, and bag cutters are common in Lima. Although Miraflores is safer than central Lima, street crime can happen. Common types of crime include snatching bags or cameras, cutting into your bag while an accomplice distracts you, or grabbing money out of your pocket. I carry only small change in my pockets in Lima (and Trujillo) and leave my cash and passport in my money belt. Always carry your passport or a photocopy of the information page and the immigrations form. If you are stopped by the police, they will ask to see your passport and immigration form. Keep them safe in your money belt.
---
FOOD, DRINK, AND HEALTH IN LIMA
There are many moderately priced restaurants around Kennedy Park in Miraflores. I recommend you stay away from salads; tomatoes and lettuce are responsible for many, many cases of diarrhea. I also suggest you avoid the food offered by street vendors. And for your own sake, please DO NOT drink the water, unless it has been boiled or purified. Bottled water is fine. Also I advise that you do NOT use tap water for brushing your teeth. You can get a taste of Peruvian cooking by experimenting with these "recetas" (recipes). The papas a la huancaíno are wonderful.
---
When passing through Lima, you may wish to do some additional site-seeing. There are several world-class museums in Lima. The Museo de la Nación on Javier Prado Oeste 2466 is a short taxi ride away from Miraflores and costs about 3 bucks to get in. It provides a good introduction to Peruvian archaeology. The Museo Rafael Larco, and the Museo Nacional de Antropología y Arqueología have excellent collections (Plaza Bolívar in Pueblo Libre). Other places to visit in Lima are the archaeological site of Pachacamac and the sea-side community of Barranco south of Miraflores).
For the more adventurous, a trip to central Lima (Plaza Martín and Plaza de Mayor) can be interesting. Central Lima is connected to Miraflores by Avenida Arequipa; buses and vans (micros) run between the two areas every few minutes. A taxi should cost a few dollars. Plaza Martin and Plaza de Mayor form the core of central Lima and are connected by a pedestrian mall. The Presidential Palace and the Colonial-period Cathedral are located on Plaza de Mayor. The cathedral dates to 1555. The Plaza de Mayor was the center of colonial Lima and many old houses and buildings are still located around the plaza. The colonial glory of the area has faded, too say the least. Although the area has vastly improved in the last few years, parts of central Lima are still rundown, crowded, and crime ridden. Foreign tourists standout and are obvious targets for robbery. In 1986 three men mugged me at 2:00 in the afternoon on a main street in central Lima. Fortunately, I had nothing of value (they threw my cheap Timex pocket watch back at me in contempt), and they were not violently inclined. Since then, central Lima has improved dramatically. A nice tour is the walk from the Plaza de Armas to Plaza San Martin. Best to travel in groups or pairs.
---