MOCHE-UNC ARCHAEOLOGICAL FIELD SCHOOL IN PERU
WHAT TO BRING TO PERU
---
Table of Contents for this Page
---
Lightweight cotton clothing is best for the coast. You should bring pants and shorts (or dresses), long sleeve and short sleeve shirts, and a sweater or light jacket for mornings and evenings. Raincoats are not needed. Temperatures range from about 55 to 80 degrees. Remember to bring some warm clothes for mornings and nights. The ocean water is rather cold in the summer, too cold really for swimming, but you may want to bring a swimsuit to layout on the beach.
Lightweight hiking shoes. Heavy hiking boots tear up the floors that we excavate. Lightweight canvas and leather hiking shoes are good. Running shoes are not a good idea because they donít provide much lateral support, which is bad for climbing to the site.
A money belt. Either one that goes around the waist, neck, or under the shoulder. This is the safest way to carry your money, plane ticket, credit card (Visa since MasterCard is not widely accepted), ATM card, and passport. Carrying money in your backpack or pockets is an invitation to theft. There are people in Peru who make their living picking pockets and slashing open backpacks.
The usual toiletries. Soap, shampoo, toothbrush, toothpaste, razors, etc. can be purchased in Peru, of course, but itís more convenient to bring enough for the month. If you forget something, you can buy these items in Huanchaco. .
Sunglasses are a must.

Hand sanitizer.

†

Also available in Peru.
---
You will need to bring a dig kit with the following things:
A trowel. Trowels are not available in Peru.

The kind of trowel you need is a Pointing Trowel with wood handle and a 4.5-by-2.25-inch blade. The shorter the blade the better it is for excavating. It must have a short, a flat blade, and wood handle. Do NOT bring a gardening trowel.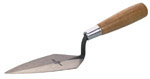 Some people prefer a square-nosed trowel, which is known as a Margin Trowel, with a wood handle and a 5-by-2-inch blade. The blade should be no longer than 5 inches. Marshaltown makes the best trowels.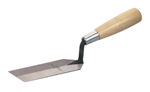 Metric engineers scale. A triangular-shaped ruler with six different scales. This must be metric, NOT inches. If you canít find one, bring a metric ruler.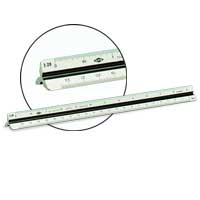 Line Level.

Line levels are about 2 inches long and are shaped like a small tube with hooks on either end so that they can be hung on a line. They are filled with liquid and have a window in the center where you can see the bubble when it is level. They cost about 2 or 3 bucks and are available at any hardware store. They are used in archaeological excavations to measure elevations. A string is tied to a datum stake that has a known elevation, and a line level is attached to the string. Elevations can then be measured (for instance, the elevation of a floor that youíve just excavated) by pulling the string tight, leveling the string by looking at the bubble in the line level window, and then measuring down from the string with your metric tape.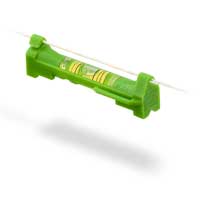 ---
Travel alarm clock.

Flashlight, for when the power goes out.

Sandals or flip-flops for after hours.

Books for free time.

Music. Youíll thank yourself for this. The lab has speakers for a MP3 player.

Peruvian electric current is 220 volts, not the US 110. You'll need to buy a transformer (available at Radio Shack and Best Buy) to run any electrical gadgets you bring down. Batteries are readily available in Peru.

Camera. When you fly, carry your camera onto your plane. I know several people who have had cameras or other valuables stolen out of luggage that they checked in at the counter.

Itís best NOT to bring expensive jewelry to Peru, because of the possibility of theft. If you do bring jewelry or other valuables, it is best to carry them with you onto the plane.

If you wear glasses, you may want to bring a spare pair with you. Glasses are very cheap in Peru (around 30 bucks for frames and lenses) so you might want to bring your prescription down and get a spare pair made in Trujillo.

I recommend carrying a copy of your vaccination records. Ideally, your vaccinations should be recorded in an International Health Certificate, which should be available at a doctorís office or a public health office. You can request one when you receive your immunizations.
---
You should bring enough extra money for meals on Sundays, and your personal expenses. Buying your Sunday meals at a restaurant can cost from $6 to $16 dollars a day. Personal expenses include such things as soft drinks, beer, laundry, city buses, taxis, and souvenirs. Departure taxes cost $4 at the Trujillo airport and $25 at the Lima airport. Your field school fees cover all lodging, meals 6 days a week, north coast bus trip, and entrance fees to museums and sites (Chan

Chan

, the Moche Huacas, and local museums).
US dollars are easy to cash anytime, anywhere. Bring only nice new bills with no tears. Moneychangers will refuse old and ripped bills. You should take

enough

money in cash for the first few days in Huanchaco.
The safest way to carry money is travelersí checks, preferably in small denominations (20s and 50s). You should use an international brand, such as American Express. Travelersí checks, however, limit you to changing money at banks (open Monday through Friday until 6:00 PM). Some students find this inconvenient. Cashing travelerís checks can be a bit of a hassle because of the long lines at banks. You also have to pay banking fees to cash the checks, and you get a lower exchange rate than cash. The advantage of travelersí checks is that if they are stolen or lost, you can get a refund.
You should carry your travelers check numbers and the receipt separately from the checks in case your checks are stolen. Also, leave a copy of the receipt and the check numbers at home with someone whom you can contact if you lose your copy of the check numbers in Peru.
Credit cards are accepted at many hotels, restaurants, and gifts shops in Peru. Visa is much more widely accepted than MasterCard. You also can use a credit card to get a cash advance at banks. They pay the cash advance in Soles (the Peruvian currency), not in dollars. I always take a credit card to Peru for emergencies. I keep my account number and customer service phone number separate from the card in case it is lost or stolen, and I need to cancel it.
---